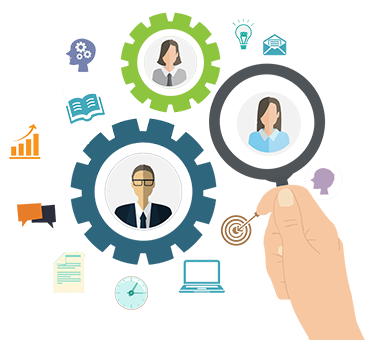 DreamApps Human Resource Management module makes your life easy to manage all the necessary data you need about your employee. This module keeps track of personal data of each employee and derives various result and reports according your need. It also helps your payrolls be accurate and on time by spending lesser administrative time and cost to prepare.
Human Resource Management (HRM)
Attach Picture and Signature of each employee is stored and tracked so that authentication is fully secured.
  
Store Personal Info of each employee as you must need in your employee management
Qualification Info of your employees
Work Experience Info
Performance Appraisal with different methods
ACR (Annual Confidential Report)
Employee wise Leave Allocation
On-line Leave Application according to leave policy
Leave Approval
Leave encashment
Increment History
Training History
Payroll Processing (PR)
Experience fewer scuffles with the various employee deductions and other special payroll situations
Have all sort of user defined payments & deductions
Pay scale wise salary structure
Provident Fund, Gratuity
Process the payroll every month quite easily just by a keystroke
Advances against salary or provident fund.
Have some sort of peace of mind, because payroll can be processed in the mould of 'Trial run' for as many times as required until you satisfy with the accuracy, so chance of paying more to any employee just becomes nil.
Attendance System (AT)
Automatic Data capturing from proximity device, finger print device or any kind of device into the DreamApps software.
Get also manual data input system
Working Day Fixing
Holiday Fixing
Get individual / shift wise Time In & Time Out system.
Get automatic Overtime calculation and relate with payroll system.
History of In & Out according to each employee.